Looking for an escape room for Children, Kids or Teens as well as for birthday parties and special celebrations, then we have the answer for you..

..an innovative, exciting and creative way for your Children, Kids and Teens to have fun together in an escape room. Whether it's for a birthday party, special celebration or just a group get together, then try our child friendly escape rooms for something totally different….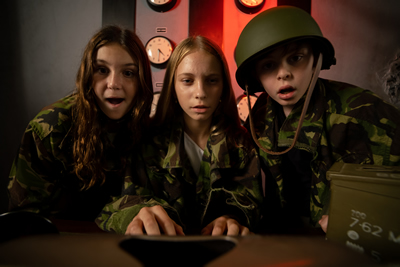 What is an Escape Room for Children, Kids and Teens
Real-life room escape games are a type of game where everyone is together in a room and they have to work together to find clues or objects to solve a series of puzzles and escape the room within a 60 minute time frame. Each of our escape rooms have a dedicated Game Master who is watching and listening to what is happening. All our rooms are equipped with Cameras, microphones and speakers so our Game Masters can guide and provide hints across all of our rooms.
When we have a booking for Children, Kids or Teens we can add extra hints and clues, suitable for their age, to the puzzles in these rooms. The rooms which we can do this for are Prison Break, Prison Break Head to Head and Bunker. If you would like to have children's puzzles, even if adults are playing with children, you must ask us before your game starts and we can make the necessary changes. We encourage the children to explore, work out the clues and work together as a team to crack the mission but the Games Master can give multiple hints as and when required to make sure the game keeps progressing. Our Game Masters do not hold Blue Cards so we do require an adult to be present but they do not have to play the game.

Prison Break and Bunker can take from 2 to 6 people however because we have 2 identical prisons you can also book Prison Break Head to Head and we can have 12 people (6 each in each prison) all competing to see who can escape first.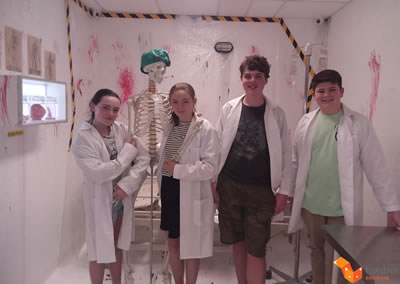 Birthdays or Celebrations

If you are celebrating a Birthday or special event, you can bring along special surprise elements for us to incorporate in the game for the group to find during their escape room experience. Items such as birthday cards, party bags and even a present can be hidden away by the games masters to create a special surprise. Please arrange this with us prior to arriving for your game so that we can let our Game Masters know that they will be expecting some extra elements to hid in the room. If the party group are wanting to celebrate with a cake, this can be enjoyed in the time prior to your game commencing.
Catering
Unfortunately, we don't have a party room, just a shared space in our reception with couches, tables, and chairs which is also a waiting area for teams heading in to play. This does mean that catering can be hard to provide in this space. However, being close to the city centre, there are many restaurants near by. We often recommend the Botanical Gardens, which is just a 5 min walk directly down Edward Street, as a suitable and free location for any after game party or picnic.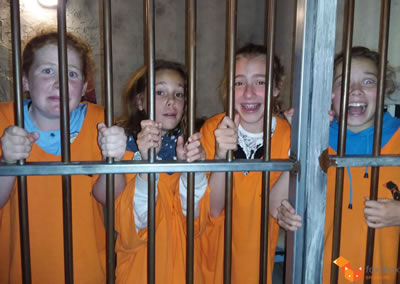 Age Suggestions
Ages 10 and above is recommended, but everyone is welcome to play. Children under 7 play for free (but they still count towards the total number of players in a room) and must play with older children or adults. Ages 14 and under require a guardian to be present during arrival and when the game finishes but the guardian does not have to partake in the game. If you are not sure about which game to choose or the age suitability for any of our rooms - not just Prison Break or Bunker - then give us a call to discuss

Party Invites
If you are having your party or celebration with us, download our party invite, add your party details, and print out for your friends and family: A5, A6
So if you do book an escape room for a birthday party at Fox in a Box Brisbane, ten to one, your idea will be selected as the top birthday party idea!

Trip Advisor Review by Rae_foodie:
Best Family Fun Ever
We'd heard about this from several friends so were keen to give it a go. Our whole family enjoyed the Escape Room including our two teenage boys who are generally hard to please when it comes to family outings! We talked about it for ages afterwards and we all want to have another go with another room. We did Prison Break which was well suited for teenagers - still pretty tricky though!! Highly recommend!
Image by Artturi Mäntysaari from Pixabay
NEWS